Welcome to Bald Hills wines
We are a boutique wine producer with a reputation for award-winning Pinot Noir, Pinot Gris, Riesling and Rosé. Our delightful Bald Hills vineyard is located in the heart of New Zealand's Pinot Noir country – Bannockburn, Central Otago.
View our range
Vines with history
The first plantings began in Spring 1997. Now with 6.5 hectares in Pinot Noir and 1 hectare each in Riesling and Pinot Gris, the Bald Hills vineyard and brand are well established within Central Otago.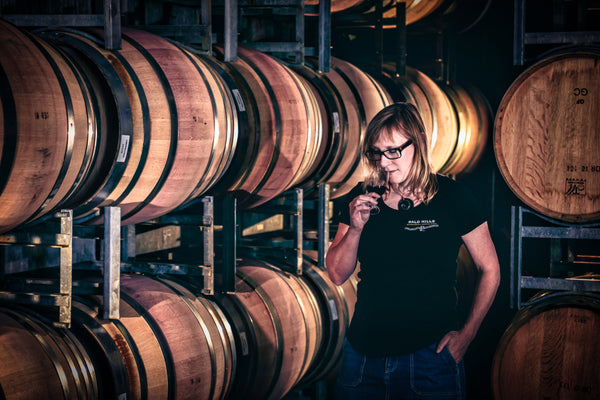 Meet our winemaker, Pip Battley
Pip's philosophy is to let the wine speak for itself, providing just a little guidance along the way. She strives to bring out the qualities unique to our vineyard, gently tailoring our wines with minimal interference.
Our story
In 1997 the land that sits beneath a range of 'bald hills' in Bannockburn, Central Otago was identified as the ideal place to produce cool-climate wines. Vines were lovingly planted in this stunning scene and so began the Bald Hills story. 
Aged with care and craft
Crafted from hand-picked premium fruit parcels our Central Otago wines are a true representation of our boutique Bannockburn vineyard. 
Our Pinot Noir is lovingly aged in French oak barriques. 
See what the critics have to say
Bald Hills Friends and Lovers Rosé 2022 ~ Made from hand-picked pinot noir this light-pink Rose is mouthfilling and vibrantly fruity. It has strong strawberry and spice flavours, hints of peach and apricot and a fresh, basically dry, persistent finish.
Michael Cooper
Bald Hills Single Vineyard Pinot Noir 2018 ~ Sweetly fruited and spicy at the same time. Dark cherry, roasted nut, game and earthy mushroom aromas. Seductive palate with fine tannins, wonderfully enhanced by ripe fruit intensity and savoury nuances. Terrific drinking!
Sam Kim
Bald Hills 'Last Light' Riesling 2020 ~ This is a vigorous, intense Riesling with citrus tension, floral detail on a textural palate and a crisp finish. Match with tom yum and spicy tomato risotto over the next 4+ years.
Candice Chow
Raymond Chan Wine Reviews
100% Committed to Sustainable Winegrowing
Introducing our 2020 Last Light Riesling
Are you a Riesling lover? We think Riesling is one of the most underrated varieties in New Zealand and when we share our Riesling at events like Winetopia people love it! Today, we are pleased to introduce you to our new release 5 Star off-dry Riesling. 
Join us at Winetopia
Join us at the greatest celebration of New Zealand Wine ~ Winetopia! Come and discover over 50 New Zealand wineries under one roof ~ we'll have some very special wines and offers to share with you.